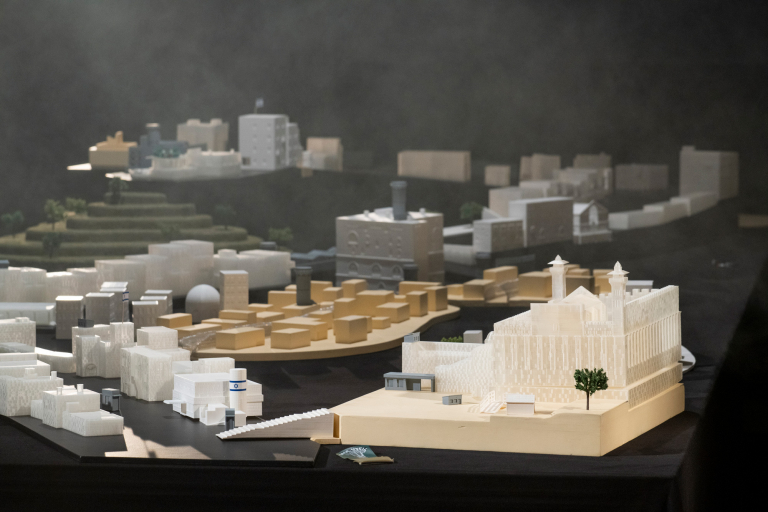 BASTARD: H2-HEBRON
Av Winter Family/Ruth Rosenthal and Xavier Klaine (FR & IL)
Sounds of a ghost street, children, birds, Palestinian riots, sound grenades launched by Israeli army. No one leaves untouched after this live testimony from a certain street in the Middle East.
With 500 pages of testimonies on life in Hebron as a backdrop, a multitude of narratives plays the main role in this radical performance on what the creators call "the brutal and unjust territorial separation planned by the Israeli regime" 
Alone on stage Ruth Rosenthal creates a close relationship with her audience. The sound image actually recorded in the zone of H2, Hebron, offers substance  to the  testimonies:  Told by Ruth, she is both our guide and the city itself, possessed by its four voices: Palestinians, settlers, soldiers, international activists.
This is a performance you won't easily forget, and it is not a sunny story. Building an exact replica of the H2 zone in a giant plastic Lego, the audience gets a chance to fully apprehend an untenable situation in the Middle-East, parallel to our own lives, but to most a sad and distant story drowned in other news.
Backdrop:
It is impossible to describe this performance without its background. H2 is the name of the area administered by Israel in the Palestinian city of  Hebron.
 Shuhada  Street is the central street of H2 Zone. Here, where it used to be buzzing of life as it was the main market artery in Hebron, it is now "sterilized" according to the terminology of the Israeli army – emptied of its Palestinian inhabitants for "security reasons". It is today a ghost street.
This performance saw its beginning a few years ago when Ruth Rosenthal re-contacted a childhood friend, a young Israeli who got married to an ultra-Zionist extremist leader. They live with their eleven children in Tel Romeida, the most deeply implanted settlement in the city of Hebron.  This citadel is protected night and day by 40 young soldiers. Ruth has stayed several times in this house to record long conversations with S, her husband and children. Taking advantage of these visits, Ruth & Xavier crossed the courtyard and checkpoints in order to record the testimonies of their Palestinian neighbors who undergo daily Israeli occupation and the presence of these Jewish families. 
The project grew with interviewing Palestinian political leaders and resistants of Hebron, then young soldiers active in this area, former reserve soldiers, international observers and young international activists. They finally recorded the Palestinian and Israeli guides who organize, methodically, tours in the area intended for 'war tourists', pro-Palestinians or pro-Israelis visitors, simply curious academics and journalists. Each of them described, explained and showed their Shuhada Street, detailing
the complexity of the situation and summoning their history, stories, myths, massacres, texts and laws. The inhabitants also describe their everyday lives,
their fears, hopes and despair.
Flere kunstneriske forestillinger