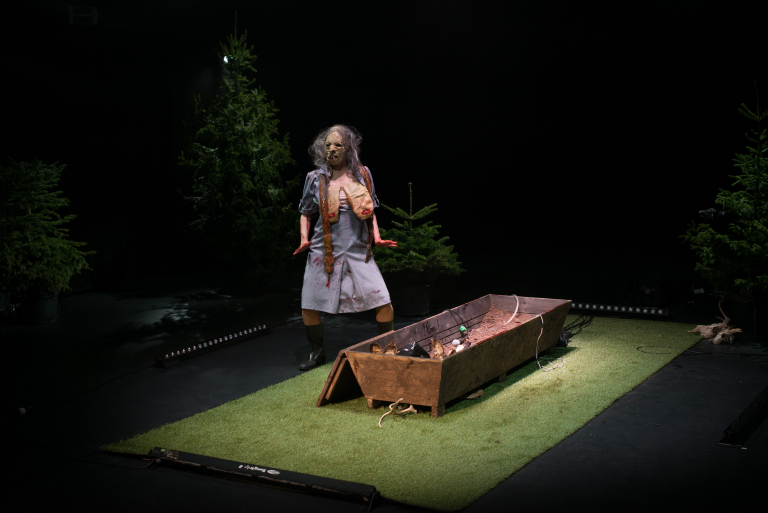 BASTARD: HOMINAL / ÖHRN
Av Marie-Caroline Hominal/Markus Öhrn (CH/SE)
Hva ville bestemor gjort om hun kunne leve livet på nytt, frigjort fra menns makt?
Det at en mann bestemmer hva som skal skje med en kvinne er så avgjort noe Markus Öhrn kjenner godt til. Mannens makt merket hans bestemor, som døde for noen år siden, for livet. Hun levde i en bygd i Nord-Sverige og var under bestefars totale kontroll, en streng og kompromissløs, patriarkalsk type. Hun var en god mor, en god kone og en god kristen. Hun fulgte sedvane og skikk og sin husbonds /mannens ordrer. Ikke lenge før sin død, spurte Markus Öhrn hva hun ville gjort om hun kunne fått leve om igjen. Og hun svarte, helt uventet, at hun ville vært mer destruktiv og ville fulgt sine egne lyster oftere.
Markus Öhrn har forvandlet Marie-Caroline Hominal til en Lasarus-liknende gjenfødelse av sin bestemor der hun opptrer på scenen, takket være teatrets masker og syndige livskraft.
Her blir teater middelet hvorved man kan gi avkall på orden for å frigjøre begjær og livskraft.
ENG:
In her new creation, Marie-Caroline Hominal, choreographer, dancer and performer, inverts the relationship between the choreographer and the interpreter. The person she has chosen to direct her is Markus Öhrn, a visionary figure within the European arts scene, whose shows vehemently denounce the control that Western patriarchy has over beings and bodies. As the author of the production, Hominal voluntarily places herself under the authority of the director, Öhrn.
For Marie-Caroline Hominal, dance is space for transformation; she is interested in how the body's metamorphosis drives a change in the audience's gaze. She presents nocturnal beings that evolve in the interval between nights that never end, partway between intimacy and artifice, manipulation and letting-go. Here, dance is the other name for the identity that floats between interiority and fantasy. For their part, Markus Öhrn's productions call on a cruel grotesqueness that forcibly exaggerates the oppression inherent to perverse family situations. The acting and scenography, as well as the music, are subjected to a brutal, almost nightmarish deformation, yet all the while making the structures and logic of domination explicit.
In HOMINAL/ÖHRN, the two artists combine their artistic worlds. In the agreement between the two of them, Marie-Caroline Hominal asked Markus Öhrn to respect just one article: that the production feature her in a solo show.
Indeed, the relationship where a man decides what will happen to a woman is one that is familiar to Markus Öhrn. It made a mark on the life of his grandmother, who died a few years ago. She lived in a village in the north of Sweden and was under the total control of the grandfather, a strict and uncompromising patriarchal figure. She was a good mother, a good wife and a good Christian, following social customs and her husband's orders. Not long before her death, Markus Öhrn asked her what she would do if she could live her life over again, and she replied, quite unexpectedly, that she would be more destructive and would follow her own wishes more often.
Markus Öhrn has transformed Marie-Caroline Hominal into the Lazarus-like reincarnation of his grandmother, appearing on stage thanks to the masks of theatre and with a transgressive vitality. Here, theatre is the means by which order is renounced to liberate desire and vitality.
The Swedish plastic artist and director links this fantastical reincarnation to the relationships between feminism and satanism that have occurred since the 19th century. This tradition is based on a re-reading of Genesis: the snake brings Eve a fruit from the tree of knowledge, and Eve is punished by God for having accepted it; she is punished for having had access to knowledge. For these feminists, God thus represents the patriarchal power system that forbids women all knowledge and autonomy, and the serpent - representing Lucifer - becomes the symbol of women's emancipation. This link between feminism and satanism is seen in the show's final reading of the poem "The Profane Genesis" by Renée Vivien (1877-1909), a lesbian and feminist poet whose texts express desire lived freely and to the fullest.
Central to HOMINAL/ÖHRN, this link brings together the new power of the reincarnated grandmother, the initial contract reversed by an interpreter who latches on to the energy of the set, and obvious references to current affairs. The dancer and choreographer Marie-Caroline Hominal, submits of her own free will to the authority of the director Markus Öhrn. Hominal becomes Öhrn by the decision of the one and the Gothic power of the other.
Flere kunstneriske forestillinger