Who is Rosendal Teater?
Rosendal Theatre is an international house of performance, theatre, dance, music and debate.
The theatre co-produces and presents two seasons per year of performances, parties, concerts, installations, film screenings, festivals, residencies, discursive events, as well as other kinds of social events. RT also runs its own cafe, which provides the organisation with very special, informal and social conditions for gathering people of all ages and backgrounds to gather, meet and hang out around food, drink and art events.
The house has three flexible studio stages, plus a cafe/bar and mezzanine for all its artistic activities. And beyond the walls of the theatre, RT works artistically across the surrounding neighbourhoods, city and region.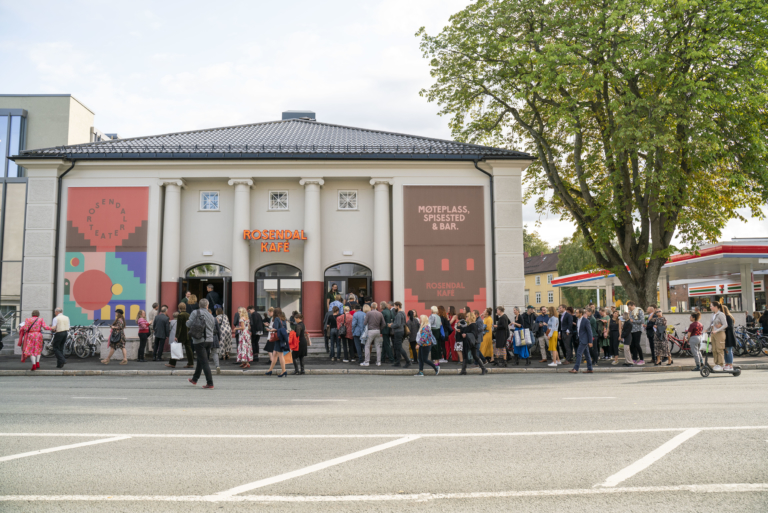 Artists and community
Founded by artists, RT has a long history in providing a platform for a dense network of local, national and international artists, who the house engages with from the early stages of a work right through to its presentation and beyond. Equally, RT is here for the many different communities that make up Trondheim and the Trøndelag/South Sápmi region. As such, RT is a house that brings together uncompromising, bold and daring artistic endeavour with a central focus on community engagement, accessibility and inclusion.

The organisation operates on the belief that everyone should have access to amazing art experiences, and likewise that the work of artists and a house like RT can be greatly enriched by its significant engagements with local people and contexts. As such, RT places a strong emphasis on the meeting point between artists, their work, and the many people RT shares a city and region with. Local individuals, groups and organisations from fields far beyond the arts are invited to engage with RT, not only as audience, but as collaborators, performers, curators, critics and board members.


Our commitment to the people and communities we work with
Some of the international and Norway-based artists – as well as some of the communities from Norway and further afield – that RT works with are marginalised, discriminated against or oppressed at the level of race, class, gender, sexuality, disability and/or global asymmetries. The house works to stand in solidarity with those artists and communities, and work with them in the struggle for a transformed future that is:
Pro-accessibility; pro-inclusivity; pro-feminist; pro-queer, pro-environment; pro- fairer, safer and more equitable working conditions; anti-racist; anti-ableist; anti-colonial.
This work begins at the level of how RT itself works as an organisation – and deep and extensive work is on-going to ensure that RT´s own organisational model reflects its commitment to these values, but equally RT strives to be vocal and use its platform as a visible institution on the local, national and international stage to add its voice to the global struggle for a future built on these values.