"The Shake Down" gir de unge som er valgt ut til å delta i prosjektet reelt ansvar og ledelse for selv å skape kultur. Ved hjelp av tid og ressurser er prosjektet ment å styrke kulturutvikling og kunstnerisk utveksling mellom en gjeng utvalgte unge, og hjelpe dem å bygge ei fremtid innen kunst, kuratering og festivalarbeid.
10 tenåringer fra Norge og Latvia vil delta i et 14 måneder langt mentorprogram. Her vil de få støtte til å co-curatere to internasjonale festivaler for utøvende kunst - "The Shake Down"-programmet som en del av "Homo Novus"-festivalen i september 2022 i Riga og en egen festival på Rosendal Teater i april 2023.
Prosjektet vil bestå av et digitalt fellesskap, utformet og vedlikeholdt av de unge kuratorene selv - mentorert og inspirert av noen av verdens ledende kuratorer og kunstnere. Deltakerne vil møtes minst to ganger i måneden i det digitale fellesskapet, gjennom workshops og samtaler hvor alle aspekter ved festivalkuratering, produksjon, dramaturgi, kunstnerisk ledelse og design berøres. Den digitale utvekslingen vil føre til to intensive øvingsperioder med workshops i hvert land, hvor tenåringene deltar sammen med kunstneriske mentorer og gjesteledere.

Prosjektet er muliggjort gjennom samarbeid mellom NTIL (ledet av Bek Berger) og Rosendal Teater (ledet av Alexander Roberts), hvor begge ledere har omfattende erfaring med å jobbe sammen med unge i aldersgruppen 16-18 år for å skape ekstraordinære kunstneriske resultater.
De kunstneriske mentorene i programmet er erfarne europeiske festivalledere – Sodja Zupanc Lotker (CZ), Asgerdur Gunnarsdottir (NO/IS), Marta Keil (PL), Santa Remere (LV) så vel som Bek Berger og Alexander Roberts. De kunstneriske mentorene vil tilføre kunnskap og kompetanse om kuratering innen kunst- og festivalbransjen fra et globalt perspektiv. Slik er målet å tilby ytterligere en internasjonal dimensjon til prosjektet.

Foto: Pēteris Vīksna / Workshop for young people by "Nocturne" artists at "Homo Novus", 2018.
"The Shake Down" har mottatt støtte på 212 190 € fra Island, Liechtenstein og Norge gjennom EEA Grants. Prosjektmålet er å fremme unge menneskers involvering i å løse utfordringer av offentlig interesse, og deres deltakelse i byers kulturliv.
www.eeagrants.org
http://theatre.lv/eng/category...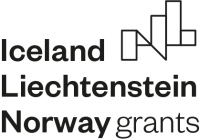 With the support of EEA Grants The New Theatre Institute of Latvia and Rosendal Teater in Norway launches a new international cooperation project "The Shake Down". The project aims to develop a new generation of cultural leaders, who, given the right time and resources, can shift the way we consider young people as collaborators and put them in charge of the cultural creation.
"The Shake Down" is a culture development and artistic exchange designed to empower a cohort of young people to work with art, curating and festival making. 10 teenagers, from Norway and Latvia, will participate in a 14 month mentoring program that will support them to co-curating two international performing arts festivals – "The Shake Down" program within the frame of "Homo Novus" festival in September of 2022 in Riga and a stand alone festival at Rosendal Teater in April of 2023.
The project will consist of an online community, formed and maintained by the young people, mentored and inspired by some of the world's leading curators and artists. This online community will meet at least twice a month with workshops and conversations targeting all aspects of festival curation, production, dramaturgy, artist management and design. The online community will lead to two intensive training and exchange periods in each country, with the teens, artist mentors and guest workshops leaders.
The design of this project has been generative collaboratively between the NTIL (led by Bek Berger) and the Rosendal (led by Alexander Roberts) both who have extensive experience in engaging with the specific age group of 16–18 and generating extraordinary artistic outcomes. The artistic mentors of the training program will be experienced European festival makers – Sodja Zupanc Lotker (CZ), Asgerdur Gunnarsdottir (NO/IS), Marta Keil (PL), Santa Remere (LV) as well as Bek Berger and Alexander Roberts. The artistic mentors will provide a knowledge of art making and festival curation from a global perspective offering an additional international dimension to this project that inturn will provide a global attention.
Photo credit: Pēteris Vīksna / Workshop for young people by "Nocturne" artists at "Homo Novus", 2018.
"The Shake Down" benefits from a 212 190 € grant from Iceland, Liechtenstein and Norway through the EEA Grants. The aim of the project is to promote the involvement of young people in solving issues of public importance and participation in the cultural life of the city.
www.eeagrants.org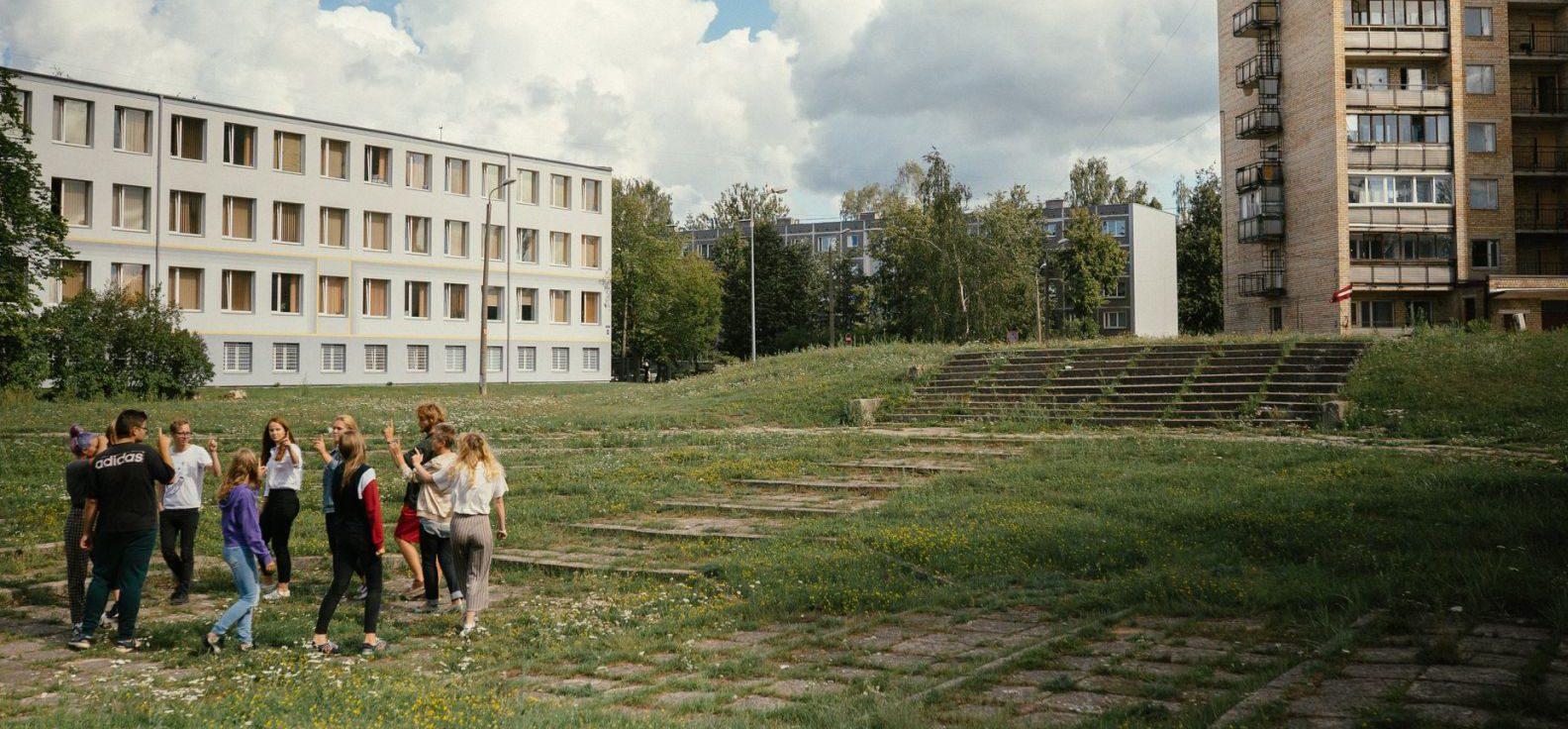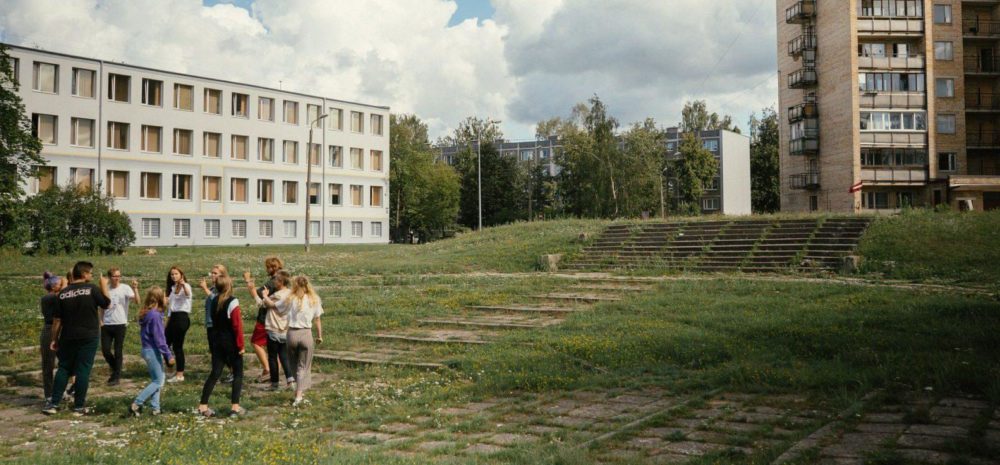 Besøk oss
Rosendal Teater is placed in the eastern part of Trondheim, at the other side of the crossing near Lademoen Church. The closest bus stop is Rønningsbakken. Bicycle parking at our wall towards the gas station.
Sign up for our newsletter!
And get the latest news on our program, invitations and community offerings once a month.