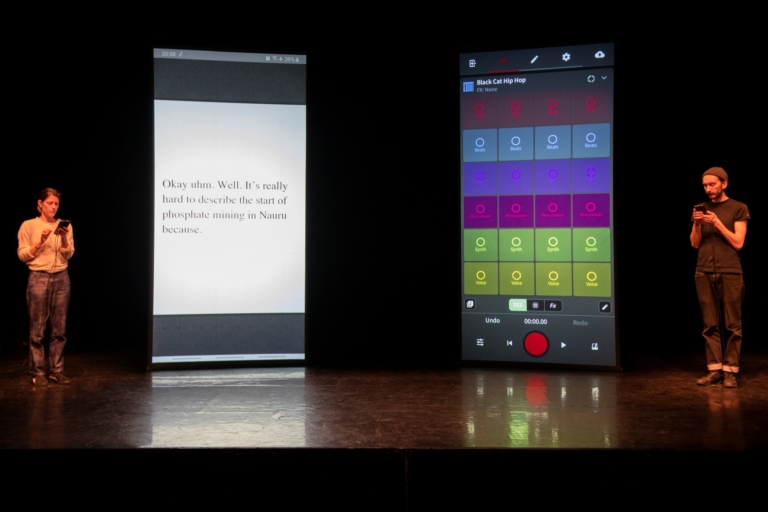 Pleasent Island
Av Silke Huysmans & Hannes Dereere (BE)
Nauru er en liten øystat i Stillehavet. Den ble en gang kalt «Pleasant Island» av britiske hvalfangere.
Språk: Engelsk
Denne øyas historie kan leses som en liknelse over vår moderne tidsalder. Øya ble ett av verdens rikeste land da man oppdaget enorme forekomster av fosfat i grunnen. Hver liten jordlapp, hvert hjørne av øya ble gravd opp og sprengt, til ingenting var igjen og den var tømt for sine naturressurser.
Belgiske Silke Huysmans og Hannes Dereere reiser til dette stedet som, jamrende av lengsel etter vekst, har blitt tømt for sine ressurser. Øya er nå et av verdens fattigste land. For å kunne overleve mottar landet nå flyktninger fra Australia i bytte mot en klekkelig sum. Hvilken framtid er det etter økologisk og økonomisk ruin?

ENG
Nauru is a small island-state in the Pacific. Once it was called 'Pleasant Island' by British whalers. The history of this island can be read as a parable of our modern age. After the discovery of a vast reserve of phosphate in its soil, the island became one of the world's richest countries. Each plot of land, each garden, each corner of the island was dug up and mined – until nothing remained, and all its natural resources had been depleted.
In their second show, Silke Huysmans and Hannes Dereere travel to this place which, groaning under a longing for growth, has been completely stripped of its resources and dug up until literally nothing remained. The island is now one of the world's poorest countries and so, in order to be able to survive, it now receives refugees from Australia in exchange for a substantial compensation. What future remains after such ecological and economic ruin?
After Mining Stories (ZKB Patronage Price 2018), the two theatre-makers travel to the island of Nauru, which recently celebrated 50 years of independence. With Pleasant Island they continue their research into the consequences of extreme mining via documentary material and field recordings obtained through interviews and conversations.
Flere kunstneriske forestillinger