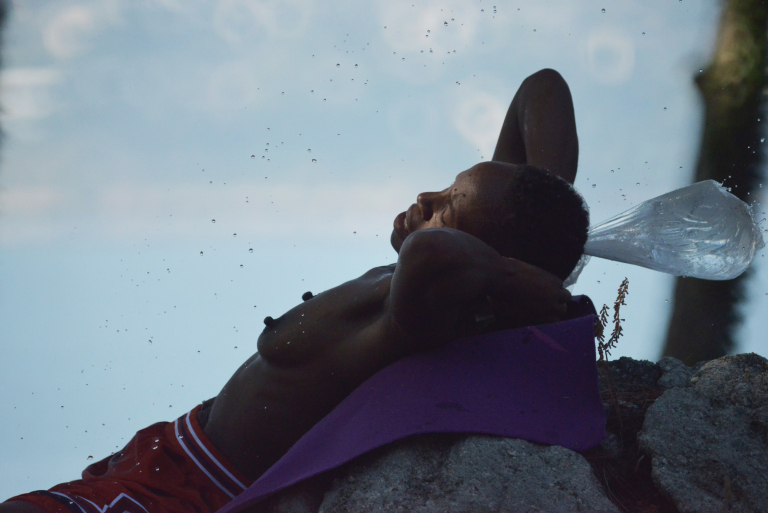 BASTARD: CUTLASS SPRING
Av Dana Michel (CC)
Opplev det siste verket fra den prisvinnende dansekunstneren og koreografen fra Canada - i Trondheim.
Dana Michel likner ingen i scenekunsten. Hun er fullstendig unik og egenartet. Men gjennom sine sceniske figurer og det de bærer med seg av århundrer med kulturell bagasje, taler de til oss her og nå - ved historiens punktum, det som flyttes hele tiden.
Dana Michel er en kanadisk scenekunstner vi har fulgt og som har vært presentert i vårt program i en årrekke. Hun har mottatt flere priser for sitt banebrytende arbeid og er etterhvert blitt kjent blant vanlige kanadiere.
«I mine forrige forestillinger, har jeg til en viss grad utforsket tanken om undertrykkelse, hvordan jeg har undertrykket visse sider av min kulturelle identitet og resultatet av at jeg sensurert sider av meg selv. Min reise videre mot å avdekke tildekkete fasetter av min sammensetning som menneske, går mot å undersøke det som har blitt mysteriet om mitt seksuelle jeg. Og hvordan det påvirker meg som menneske, utøver, mor og elsker.
Noen viktige spørsmål er for eksempel:
Hvordan påvirker et helt liv i løynd hvordan vi kobler oss til hverandre?
Hvordan påvirker undertrykking vår måte å elske på, vår måte å dele fysiske rom med andre og hvordan vi deler vår kropp med andre?
ENGELSK:
In my past two works, I have to some extent been exploring the idea of repression - how I had been repressing certain aspects of my cultural identity and the repercussions of this kind of withholding. Moving further towards uncovering buried facets of my human composition, I would now like to delve into what has become the mystery of my sexual self and how it affects me as a human, a performer, a mother, a lover.
A couple of major questions, for instance:
-How does a lifetime of hiding affect how we connect to others?
-What are the effects of repression on how one loves, how one shares physical space with others, and how one shares their body with others? »
Flere kunstneriske forestillinger